2023 will mark the 70th birthday of the Rover Sports Register which will be celebrated in style.
Over the weekend of 9th 11th June 2023 the RSR Platinum Anniversary Rally will be held at the Abbey Hotel in Malvern, Worcestershire and Shelsley Walsh Hill Climb.
The event is open to members and non-members. Participants can book for for the full three days or pick individual activities of their choice.
The weekend will start with arrival at the Abbey Hotel where RSR members will be on hand to welcome you.
Saturday
You are either free to do your own thing or better still join us for some fabulous planned activities. These will include a trip to the Morgan Factory in Malvern, classic car road runs though the scenic Malvern Hills, taking in Elgar's birthplace. Saturday will be rounded off in the evening with a gala dinner at the Abbey Hotel in Malvern.
Sunday
The rally on Sunday will be at Shelsley Walsh Hill Climb, a 16 mile/30 minute drive from the Abbey Hotel. A full day of events are planned on the Sunday to round off a weekend celebrating all things Rover, classic motoring and just enjoying the beautiful surroundings of the Malvern hills.
The Rover Sports Register has arranged for the Midlands Motor Sport Club to operate the hill for those of you who want to take your car up the oldest motor sport venue in the UK.
Programme of Events
| | | | | |
| --- | --- | --- | --- | --- |
| Friday 9th June | | Saturday 10th June | | Sunday 11th June |
| Arrival and Welcome | | Visit to Morgan Factory | | Shelsley Walsh Hill Climb |
| Informal Supper | | Scenic Classic Car Run | | Static Classic Car Show |
| | | Sightseeing Visits | | Auto Jumble and Stalls |
| | | Saturday Gala Dinner | | Special Displays |
Sunday at Shelsley Walsh including Hill Climb
Our Platinum Rally, weekend culminates on Sunday with a static rally at Shelsley Walsh Hill climb combined with the hill climb in operation.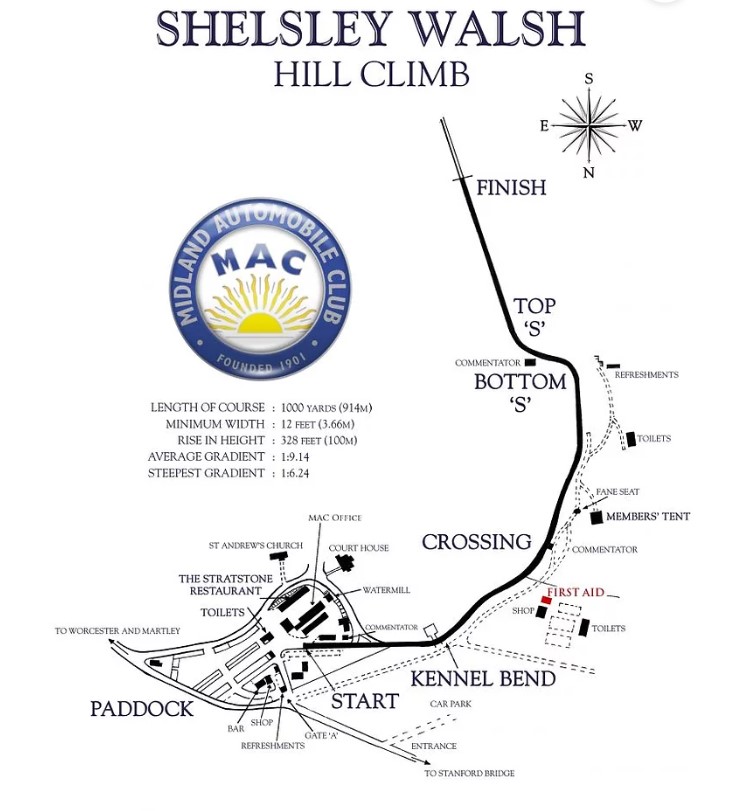 For those who have always wanted to take their Rover or other classic up Britain's oldest motor sport venue, now is your chance to book you and your car in for this unique RSR event. You can book in just for the Sunday if you wish, whether for the hill climb or the static rally.,
First used in 1905 and in continuous use ever since, Shelsley Walsh is the oldest motor-sport venue in the world that still features its original course. If you book your car in to do the climb, you will be following in the wheel tracks of motor-sport greats such as Raymond Mays, Hans Stuck and Stirling Moss. There will be a full marshalling and safety briefing for members who have booked to run up the hill.
This very special RSR event at Shelsley will allow enthusiasts to get close to the action as well as the cars and drivers. Rally admission fee includes access all areas, allowing visitors to walk around the paddock, watch the hill climb action as well as enjoy all the other RSR rally attractions including Autojumble, regalia sales, RSR rally awards.
Catering will be also be available at the superb Shelsley Walsh facilities.
Saturday: Morgan Factory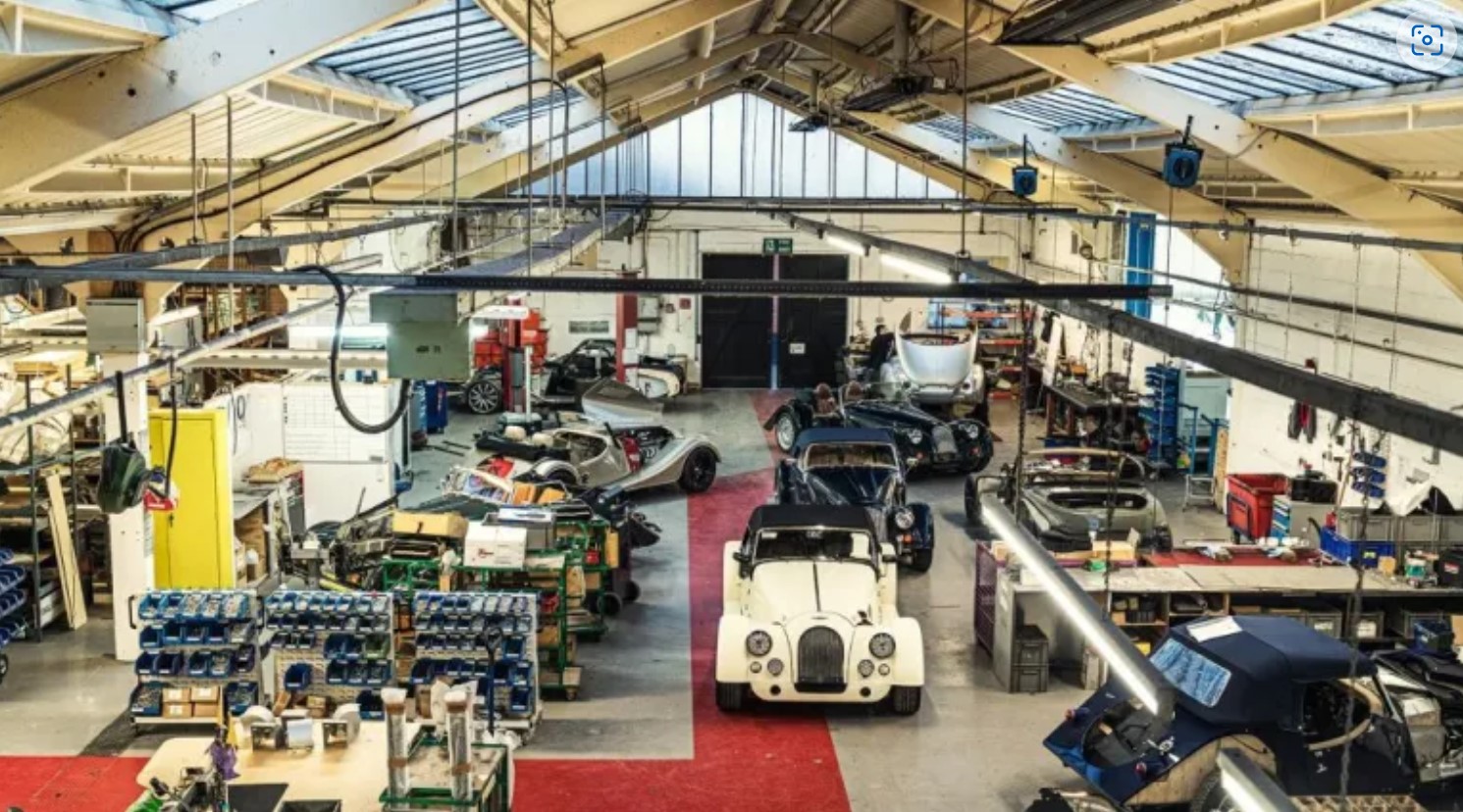 One of the Saturday options you can book is a tour of the Morgan Motor Company's historic factory at Pickersleigh Road. This exclusive RSR group guided tour of the Morgan production line will provide an automotive experience like no other. You will save 10% on the usual tour price with by booking in advance with the RSR Platinum Rally.

Unlike other factory experiences, visitors to Morgan won't peer through viewing galleries, walk through imitation production lines or be shown the outside of factory buildings. A Morgan guided tour is authentic and real. Visitors are guided through every workshop each one with its own sights, smells and sounds by an experienced and knowledgeable tour guide.
Saturday Road Runs
You will be free to explore Great Malvern and surrounding area or if you prefer, take advantage of one of the scenic route maps supplied with options for longer and shorter road-runs on Saturday. Routes will have suggested coffee, lunch and tea stops, as well as ideas for places to visit.
There will be time to enjoy the Morgan Factory Tour on Saturday morning and do a short road run in the afternoon. Routes have been tested to make sure you get back to The Abbey Hotel in plenty of time to get ready for dinner on Saturday.
Accommodation
A great package deal including two night's accommodation, Friday Dinner, Gala Dinner and breakfast has been arranged with the Abbey Hotel Malvern. It is a 4-star hotel in Great Malvern's town centre with landscaped gardens and spectacular views over the Vale of Evesham and the Malvern Hills. With 103 bedrooms, 80 parking spaces and the Priory View Restaurant and bar, and function room the hotel offers free WiFi throughout.
We can supply a list of Bed-and-Breakfast, camping and other accommodation alternatives on request.
Costs and how to book
Please go to https://www.ticketsource.co.uk/rover-sports-register to use our secure booking form at Ticket Source
You can download a paper form here and a pdf Brochure here